Nicolas Aubé launches his Full Fiber project at IT Partners
15 juillet 2022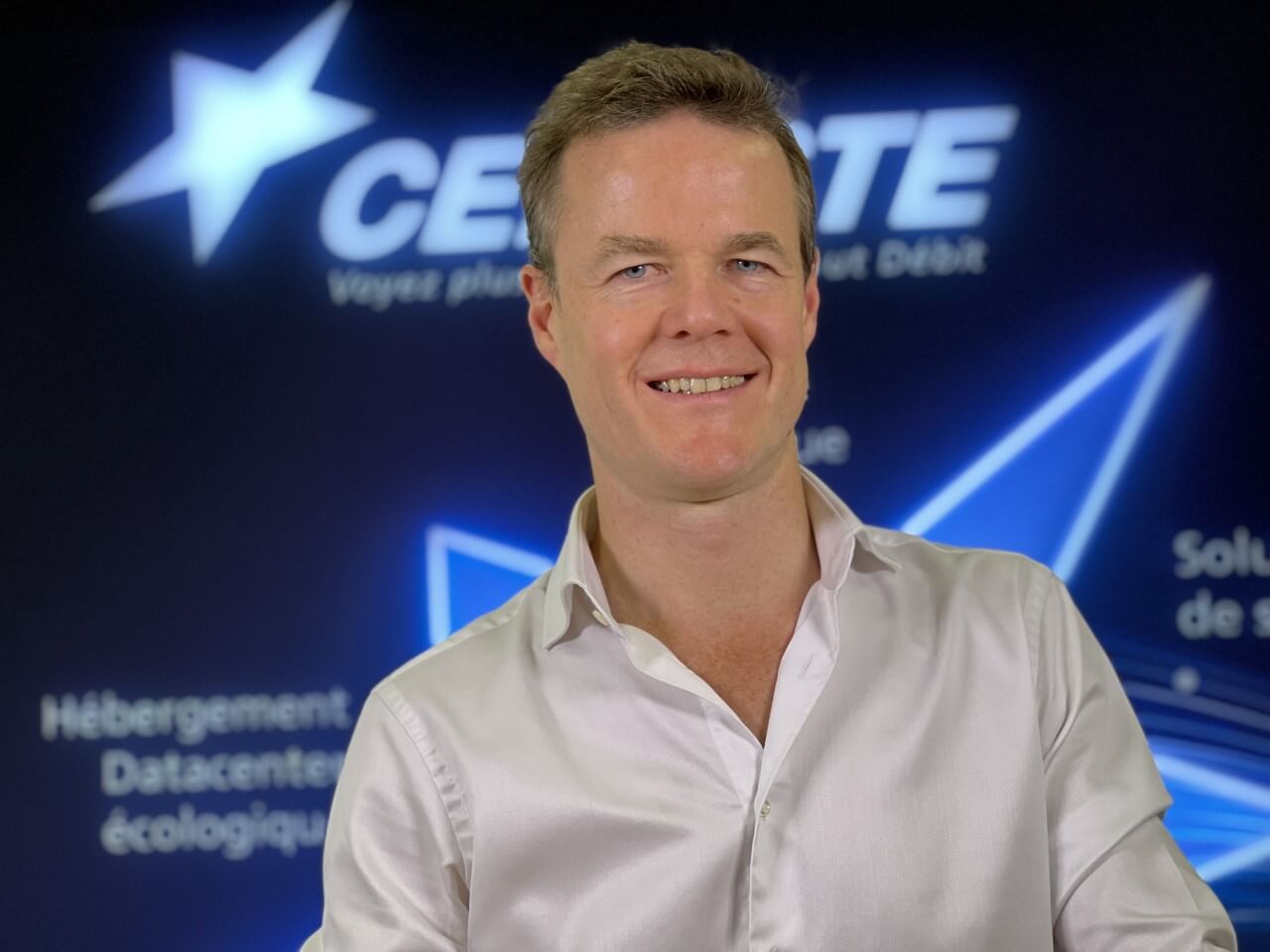 CELESTE will no longer sell DSL links in fiber-eligible areas as of September

To prepare companies for copper network switch-off, CELESTE has decided to launch its « Full Fiber » project.
Marne-la-Vallée, 7 July 2022. CELESTE announced its « Full Fiber » project at the IT Partners tradeshow on June 16. Nicolas Aubé, the founding president, explained during an interview that they will cease marketing copper links (ADSL and SDSL) and offer only fiber to companies in eligible areas. This decision follows the announcement of the gradual phase-out of the copper network and ADSL in February this year.
Raising businesses' awareness on copper phase-out!
Copper-based technologies are gradually fading away! With the gradual end of the copper network (Public Switched Telephone Network (PSTN) and DSL lines), optical fiber is becoming an increasingly important technology of the future, especially for business growth. Through its « Full Fiber » project, CELESTE aims to make fiber accessible for all types of companies, supporting them in this digital transition. At the same time, this helps inform and raise awareness among professionals on the total disappearance of copper-based technologies by 2030, that is, ADSL, SDSL and EFM solutions, and thus emphasizes the importance of turning to a modern technology adapted to business uses.
« We are going to witness the last ADSL line in France being taken down by 2030. However, we still see that private and public companies or even partners and resellers, are still ordering copper lines for the next four years, when in fact they will no longer exist. Hence our decision to launch a « Full Fiber » offer for businesses, which aims to provide fiber to customers eligible for the CELESTE network; all this under the same conditions of price, delivery times, and services as the copper internet solutions » explained Nicolas Aubé, president of CELESTE during his interview at the IT Partners event on the 16th of June this year.
Making fiber the new standard as from September!
CELESTE, as the leading fiber operator for businesses in France, offers Internet access, site interconnection, telephony, hosting and cloud services. In addition, its own fiber network which extends over 10,000 km in France currently equips more than 16,000 customer sites. This network, which is based on a robust and resilient infrastructure, is connected to two environmentally friendly, high-density and secure data centers, one of which is both ISO 27001 certified and a Health Data Host (HDS) certified.
With more than 20 years of expertise in telecommunications, the operator wishes, through the 'Full Fiber' project, to extend its network, so as to make optical fiber the new standard for businesses. And this, by making it accessible to companies eligible for CELESTE fiber offers, starting in September.
« This represents a major challenge for the business ecosystem. The Full Fiber project is a tremendous growth lever to replace all these lines with fiber. For this, CELESTE has its own fiber network that is designed for businesses. We have the expertise to support businesses in this digital transition and can replace all copper lines, » he said at IT Partners.
About CELESTE:
CELESTE is a telecom operator for businesses in France, specialised in optical fiber and innovative and eco-friendly network solutions. Created in 2001, the company provides Internet Access, sites interconnexion and telephony services to SMEs, large firms as well as public institutions. The telecom operator serves more than 16 000 clients' sites. CELESTE has ownership of its national network of more than 10 000 km of optical fiber deployed in France and provides data hosting and cloud solutions within its datacenters Marilyn and Fil d'Ariane. The telecom operator is also present in Switzerland through its subsidiary company VTX Telecom.
More information: www.celeste.fr
Découvrez nos derniers articles de cette catégorie
Champs-sur-Marne, le 26 octobre 2023
lire plus
Twin Quasar et CELESTE proposent de l'hébergement écologique aux clients européens de stockage de...
lire plus
Twin Quasar and CELESTE Bring Green Data Hosting to European Data Storage Clients on the Filecoin...
lire plus
Découvrez nos solutions sur mesure pour booster votre performance et votre activité selon votre typologie d'entreprise