Global Compact : CELESTE's First Communication on Progress
31 mars 2022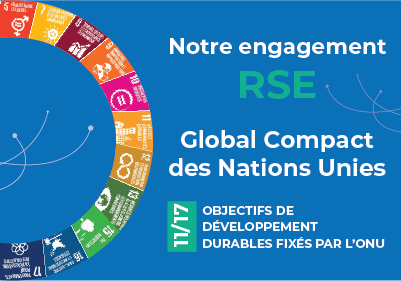 CELESTE publishes its first Communication on Progress and renews its commitment to the United Nations Global Compact 
Marne-la-Vallée, 24 March 2022. In March 2021, CELESTE, a dedicated telecom operator for businesses in France, joined the United Nations Global Compact as part of its ongoing CSR approach. As a member, the operator is committed in respecting the ten universally accepted principles relating to human rights, labour standards, the environment and the fight against corruption. CELESTE also contributes to 11 out of the 17 Sustainable Development Goals set by the UN through its internal and external operations and actions. After one year, in accordance with the requirements for members, the operator publishes its first communication on progress and renews its commitment.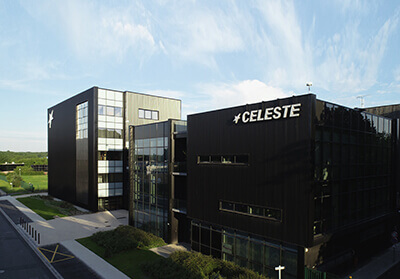 CELESTE – A strong CSR commitment
CSR is at the heart of CELESTE's operations, precisely through its hosting and cloud solutions in its eco-efficient data centers powered by green energy and its internal and external green actions. In 2021, after joining the United Nations Global Compact, the operator is molding its CSR approach in a spirit of continuous improvement, both in terms of governance and the implementation of concrete actions and progress monitoring tools.
A renewed commitment and continuous improvement process of its actions
In its Communication on Progress publication, CELESTE assesses its actions over the year in relation to the ten principles of the Global Compact, as well as 11 of the 17 Sustainable Development Goals (SDGs) to which the company contributes directly, being :
Gender equality
Clean and affordable energy
Decent Work and Economic Growth
Industry, Innovation and Infrastructure
Reduced inequality
Sustainable cities and communities
Responsible consumption and production
Measures to combat climate change
Life on Earth
Peace, justice and effective institutions
Partnerships to achieve the goals
« This first communication on progress allows us to report on our actions and illustrates our long-term commitment to sustainable development. The 17 Sustainable Development Goals of the United Nations Global Compact provide a framework for CELESTE. We want to develop in a way that align with our values », says Nicolas Aubé,Chairman of the CELESTE Group.
About CELESTE:
CELESTE is a telecom operator for businesses in France, specialised in optical fiber and innovative and eco-friendly network solutions. Created in 2001, the company provides Internet Access, sites interconnexion and telephony services to SMEs, large firms as well as public institutions. The telecom operator serves more than 16 000 clients' sites. CELESTE has ownership of its national network of more than 10 000 km of optical fiber deployed in France and provides data hosting and cloud solutions within its datacenters Marilyn and Fil d'Ariane. The telecom operator is also present in Switzerland through its subsidiary company VTX Telecom.
More information: www.celeste.fr
About the United Nations Global Compact:
Launched by Kofi Annan, the United Nations Secretary General, in July 2000, the Global Compact is a voluntary initiative based commitments by which companies, associations and non-governmental organizations are invited to respect ten universally accepted principles in the areas of human rights, labor standards, the environment and the fight against corruption. Each year, members must certify their effective implementation of these principles in a « progress report », which is posted on the Global Compact website. The initiative has grown rapidly and now has 13,600 members, including over 12,000 companies.
Découvrez nos derniers articles de cette catégorie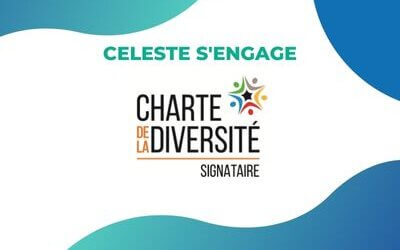 CELESTE rejoint les signataires de la Charte de la Diversité CELESTE fait désormais partie des...
lire plus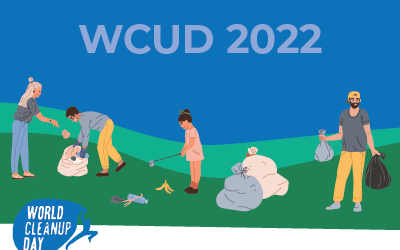 1.5 T de déchets collectés par les collaborateurs CELESTE lorsWorld CleanUp Day 2022 Le World...
lire plus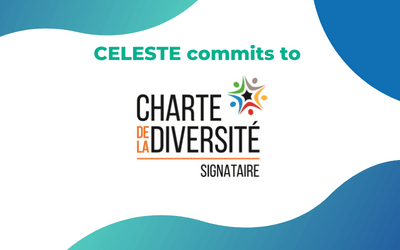 CELESTE joins the endorser of the Diversity Charter CELESTE is now one of the 4,500 endorsers of...
lire plus
Cette offre vous intéresse ?
Découvrez nos solutions sur mesure pour booster votre performance et votre activité selon votre typologie d'entreprise