Appointment of Pierre Marty as Vice-President of the CELESTE group
3 juin 2021
Pierre Marty appointed as Vice President of CELESTE
to accelerate development on the European market
Press release – Marne-la-Vallée, 3rd June 2021. Since 2020, CELESTE Group has maintained its steady external growth in France and now aims at getting its share of the international market. A key milestone was marked in last February by the acquisition VTX Telecom in Switzerland. To achieve the company's growth goals, CELESTE Group has strengthened its management team by appointing Pierre Marty as Vice-President – Business Development and M&A of the Group alongside its President, Nicolas Aubé.
Pierre Marty, CELESTE Vice-President: A key player for a successful international expansion.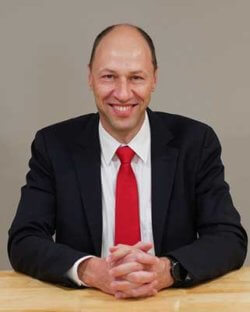 Pierre Marty has acquired extensive experience in infrastructures and telecoms services. Degree holder of l'École Polytechnique and of CentraleSupelec, he started his career in 1997 at Nortel and Nokia before leading the Business Unit Cable and Fiber North America at OFS, worldwide provider of cables and optical fibers.
Since 26th of April 2021, Pierre Marty bears the triple responsibility of developing the French and international business of the group, being part of the board of directors of VTX, as well as leading the integration process of the companies acquired by CELESTE.
Nicolas Aubé, CELESTE President shares « We are pleased to have Pierre Marty on board to drive the development of CELESTE. Business digitalisation is moving fast and our mission is to accompany them throughout this process in France, Switzerland and maybe in other European countries. CELESTE is currently in a rapid growth dynamic on the internal and external levels. As such, we will be able to rely on Pierre's experience and great qualities as commercial and international business developer. »

Pierre Marty states, « I am pleased to join a French Tech key player such as CELESTE. In continuation of my professional experience these past 24 years, I totally endorse CELESTE's mission to accompany businesses through their digital transformation by providing robust and innovative telecom infrastructures and services. »
About CELESTE:
CELESTE is a telecom operator for businesses in France, specialised in optical fiber and innovative and eco-friendly network solutions. Created in 2001, the company provides Internet Access, sites interconnexion and telephony services to SMEs, large firms as well as public institutions. The telecom operator serves more than 12 000 clients' sites. CELESTE has ownership of its national network of more than 8500 km of optical fiber deployed in France and provides data hosting solutions within its datacenters Marilyn and Fil d'Ariane. The telecom operator is also present in Switzerland through its subsidiary company VTX Telecom.
More information: www.celeste.fr
Cette offre vous intéresse ?